Hello and welcome.
This site is dedicated to my BMW E30 V8 project that is currently ongoing. The site will be updated regularly with text, pictures and videos.
If you have any questions or comments, I would be happy to hear from you. Write me an email at: mail@e30v8.plainsimple.dk


/Jonas
Finally some sunshine so I could take the car out for a long testdrive. At the moment it looks awful, due to the fact that it have been sitting in the garage for more than year, without any kind of cleaning. So very dusty and dirty. Also I have pulled off some of the bodykit to deal with the rust, which is gone now. I think that I have set my mind on a color for the car, E92 Alpine White:




A small update. I have exchanged my previous S3.25 diff with a S2.78 diff. So now the car has a decent top speed and not running
too high revs at cruising speeds. Since I have a nice Motorsport differential cover, I am going to transplant that onto the new one.
New diff is the one on the left without the cover.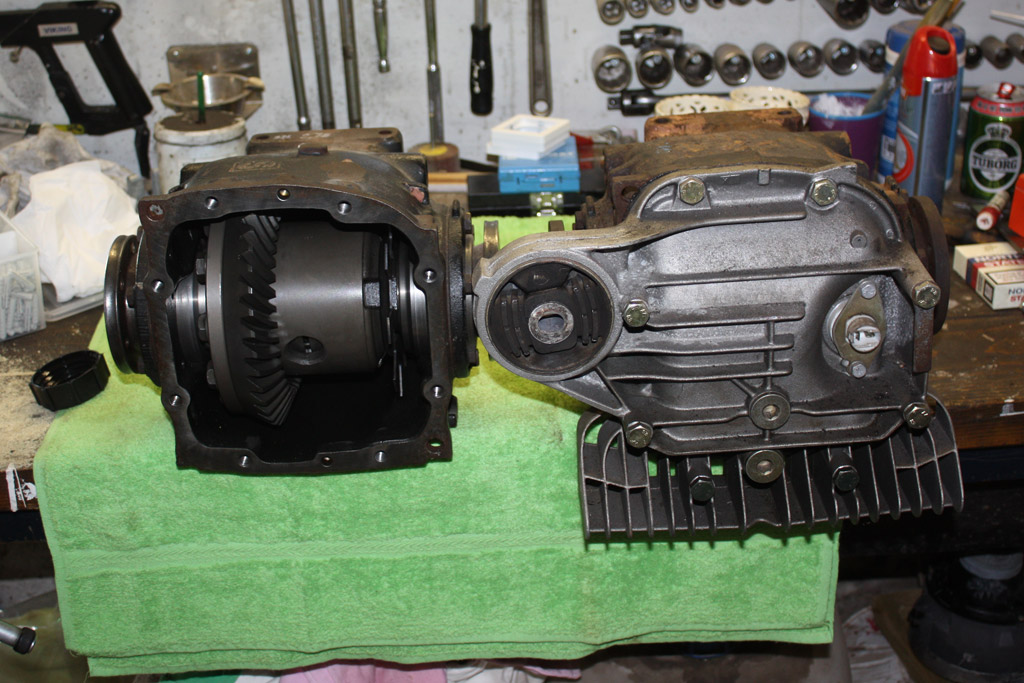 I have now been on a couple of test runs in the car, and little by little, and it seems that everything is working now.
All the rust have been fixed which was basically the biggest problem. Now I only need to drain the oil and make sure the oil pump
haven't come loose (which is a known problem on M6x engines).
I also need to change the differential as the 3.25 that I am using now, only give the car a top speed of 220km/h.
This means that the first gear is more or less useless.
Considering a E30 Eta differential, or maybe even a 2.65 from a E34 525tds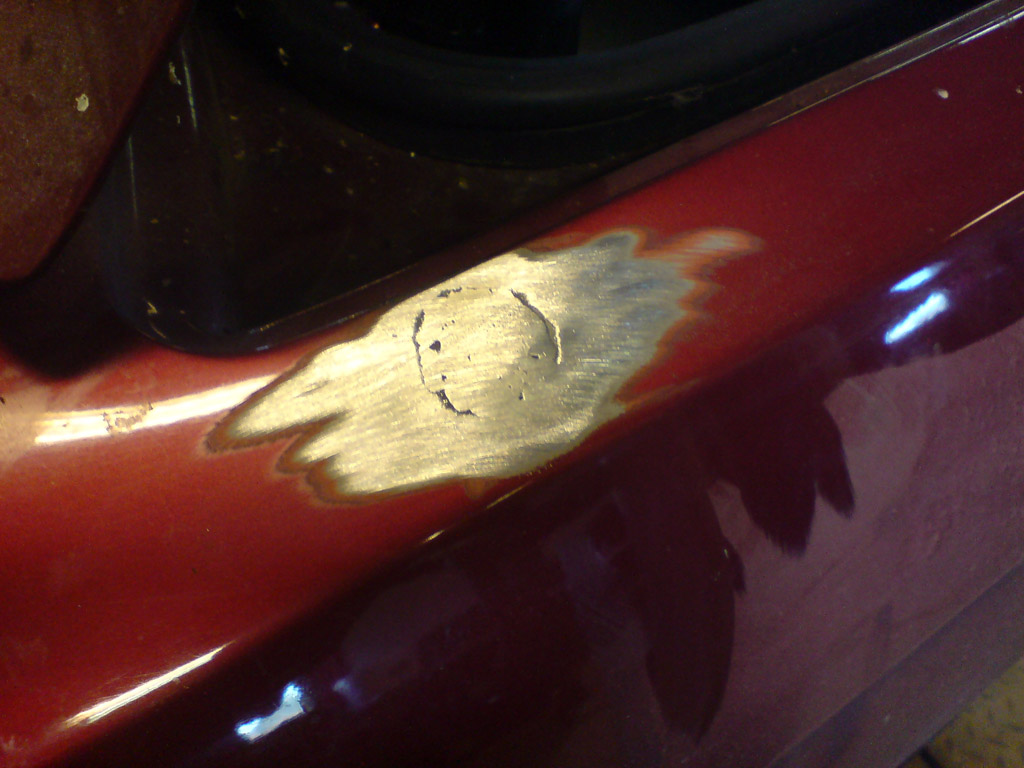 The day of the first test drive is getting closer. Still need to fix a few things, though they are only minor issues. This is what is on the list of items that needs to fixed:
- Install a new output cylinder clutch
- Flushed the brakes
- Installed a new instrument cluster
- New E30 temperature sensor to match the instruments
- Wired the electric fan
- Bought a new set of fog lights
- The blower needs to be fixed






























So, today I got a lot of cool stuff. I got a FK height adjustable springs with KONI Dampers, 312x28mm front brakes. Install pictures will follow shortly :-)









Managed to finish with the rod that goes from the brake pedal to the brakebooster. Also I have started working on the exhaust it self and hopefully will soon be able to listen to the engine without earplugs.
Today I got the car started after much anticipation :-) It has trouble idling be course there are no Lambda attached, and no exhaust installed. More videos and picture updates will soon follow...
Finished with the left exhaust manifold, finished with all the wiring including the different plus cables going everywhere in the car :-D
Bought a fairly big BMC air filter and mounted it aswell. So now the engine starts and sounds crazy as hell as long as there is no exhaust on it, so I guess this will be next in the build process. Also I am going to make the rest of the brakelines for the entire car and also the fuel line will have all new pipes leading to the tank. Decided I wont pull out the engine untill the car has to be painted so its gonna be in the hole for awhile ;-)
Alot of stuff has happened since my last update. Text will be updated later on ;-)
Alot of stuff has happened since my last update. Text will be updated later on ;-)
Things are starting to look good. I have mounted the gearbox to the engine, temporarily to see what it looks like. Its a nice and tight fit, and it is actually fairly quick to pull out the engine from the engine bay. Also I have found the final position of the brakebooster. The mounting has been reduced in height, and the arm that actually holds the mount has been shortened and welded to the correct length. Usually people relocate the ABS unit to the original battery position, but after some consideration, I decided that it could actually fit underneath the brakebooster, right behind the headlights. There is little room for it, but it is so much nicer this way, and makes my job easier since I don't have to extend the brakehoses and the wires that goes to the ABS unit. Next up is the exhaust manifolds that needs to be modified so it doesn't interfere with the steering shaft. More updates soon...
Been pretty busy for the couple of months doing alot of non car related stuff... But there are some news! I have bought 2 brand new X5 4.4 exhaust manifolds from BMW. They were quite expensive but at the same time saves me a lot of work. Compared to the regular M60 manifolds that have 4 pipes going from the engine, the X5 manifolds only have one pipe on each side going away from the engine. This means that it requires a minimum of modification to the manifolds.
Also I have listed the colors and pin number of the enginewirings
Now the project is getting somewhere. I have ripped the old engine/transmission/brakebooster etc. out of the car, which was pretty straight forward. Now the job gets a bit more tricky.
Just for show, I decided to place the V8 engine in the engine bay to see how it looked and to get an indication of what needs to be done, and of course how much/little room there is ;-)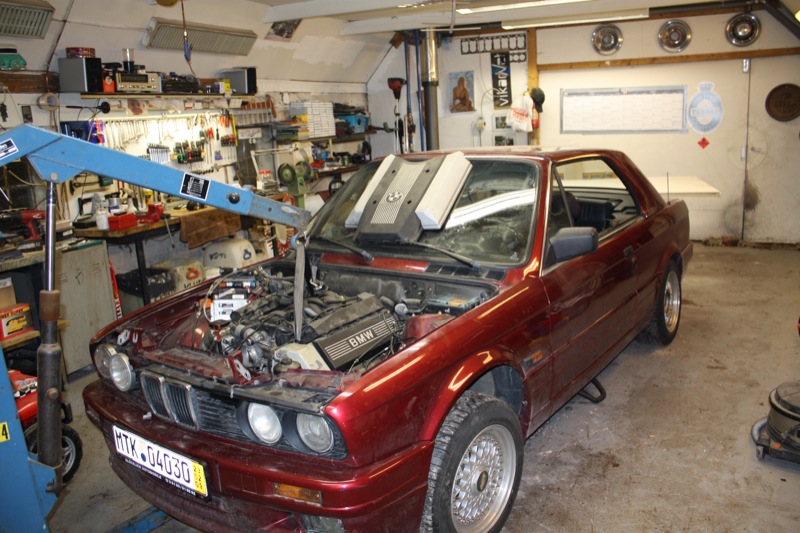 Just got back from Frankfurt - Germany with my new 93 convertible final edition. Its in good condition, has M Tech II bodykit, black leather interieur and standard hardtop :-)
Soon ready to begin the process of dismantling and removing the engine.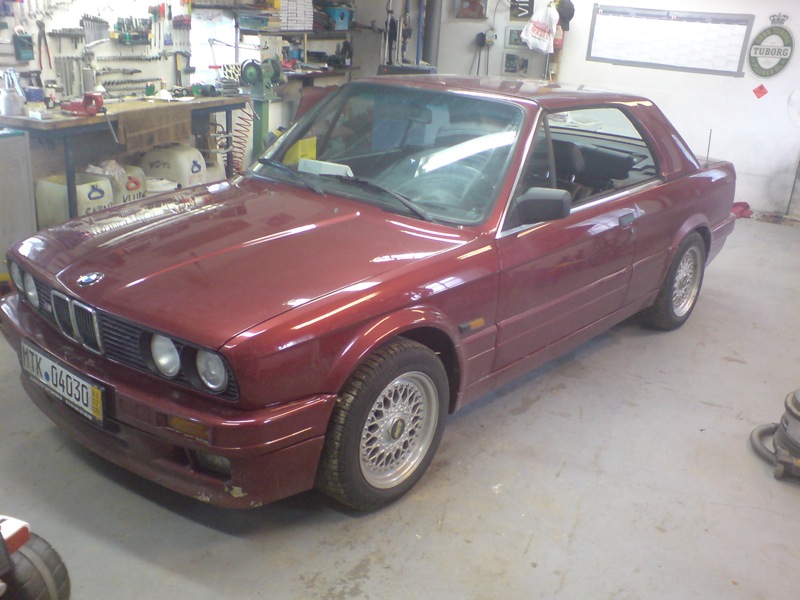 At last I got to the point of making a site for my V8 project. The status is that I have started collecting all the necessary parts including a nice e36 M3 3.2 exhaust with scorpion M3 muffler. Also I have an E30 M3 diff (25% Lsd - 3.25). The next plan is to take the V8 apart, clean everything and exchange several gaskets. Plus, I need to find a decent M-tech II Convertible, hopefully within the next couple of months. Stay tuned...
---
PART LIST

DESCRIPTION

PRICE

CHECK

Car
325i Convertible (incl. travel expenses)
31500
X
Engine
740 E32 Automatic
0
X
Gearbox
530 E34 5 speed with clutch
2000
X
Differential
E30 M3 3:25 - Lsd 25%
4000
X
Exhaust
E36 M3 +cats
6000
X
Electric fan
Aircon condenser fan (740I)
1100
X
Engine Mounts
300mm.de
1650
X
Driveshaft
E30 M3
1000
X
Brakebooster
740i E32
0
X
Engine mounts rubber
540i E34
890
X
Radiator
e28 M535i
1373
X
Universal joint (Hardy)
E34 M5 (LK=96MM/12)
536
X
Exhaust manifolds
E53 X5 4.6i
5000
X
Gear "bridge"
E30 M3
410
X
Brakes
300mm.de 312x25mm/294x19mm
14500
X
Suspension+other
FK Highsport - Koni, height adjustable
10165
X
Reservoir clutch + other
spacers for the topcover of the engine
483
X
Intake manifold rubber
plus other small things
1200
X
Alloy wheels and Tires
Alpina 7.5"x17" -Pirelli Zero Nero 215/40/17
4300+3500
X
Other
Oil, parts, gearshift (shortshift)
2000
1010
450
1400
700
460
2200 (stainless exhaust)
611 (RPM-Module/VMax removal from stifter.homer@gmx.de)
461
700 (Powerwrap+misc)
1000 (wishbone+Steering linkage)
736 (Wheel bearings)
1379 (brake linings etc)

X
Sold from original car
Engine, transmission, differential, wheels
1800
2100
500
X
Note: In order to use the engine wiring harness from a M60 Automatic engine, you can remove the computer for the automatic transmission.